Dansk
Diverticula of the large bowel
What are diverticula?
Diverticula are pouches or bulges in the colon. They arise from the lining being pushed out through the muscle of the bowel wall. (See illustration). Many diverticula are called diverticulosis. Usually diverticula are localized in the lower third of the colon, which again is located in the lower left of the abdominal cavity. Diverticula are rarely seen among younger people. Only 5% of 40 year olds have diverticula, while 75% of 75 year olds have diverticula and thus they be seen as an age phenomenon. Diverticula is not a disease but a condition and for most, a completely peaceful one.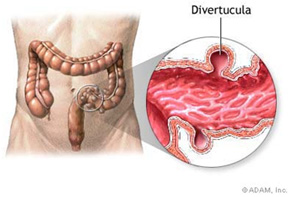 What causes diverticula?
Diverticula presumably occur due to weak areas in the intestinal wall musculature giving way for a high pressure inside the intestine. This leads to the lining being squeezed out through the muscle fibers. There is a correlation between a lifelong intake of low fiber intake and constipation, and the development of diverticula.
What are the symptoms of diverticula?
Diverticula and diverticulosis rarely cause any symptoms but can lead to variation in stool consistency, a feeling of incomplete bowel emptying and bloating. In rare cases there may be stomach pain and bleeding from diverticula.
How are diverticula detected?
Diverticula are best detected with colonoscopy or sigmoidoscopy of the colon (You can read more about these examinations on this website). Other imaging modalities are CT and MRI scans although not revealing the same detailed information as the endoscopies.
How are problems related to diverticula prevented?
Prevent constipation with plenty of fluid intake, a high fiber diet (possibly fiber supplements) and daily exercise. You can get more information about proper diet on this homepage and the homepage of the Danish Food Administration (Danish language) www.altomkost.dk
What infection in the diverticula occurs?
10-20% of people with diverticula will experience one or more cases with infection in the diverticula. The condition is called diverticulitis, and is usually a transient condition without complications. There is usually soreness / pain in the lower left side. If there is a fever alongside diverticulitis, antibiotics should be prescribed by your G.P. or consultant surgeon. Normally, the incident lasts for 1-2 weeks. In more severe cases the situation might aggravate with nausea, vomiting and passage problems for bowel air and feces. In these cases you must be evaluated by a doctor because surgery might be considered.