Dansk
Contact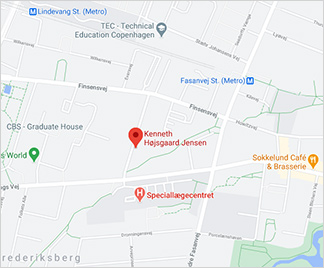 The clinic can be contacted on telephone 38 86 82 22 and 40 50 82 22 from Monday to Thursday 9.00 to 14.30. Fri closed. Email [email protected]
The clinic is located at Lindevangs Alle 6, 1. sal, 2000 Frederiksberg.
In front of the clinic there are 1 parking place (sign: Kirurgisk Klinik). You must have a parking permit which is handed out by contacting the clinic.
Entrance is in the low building with the sign "Speciallægecenter".
The nearest Metro Station: Fasanvej.
The nearest Train Station (S-tog): Peter Bangs Vej.
Bus Number 9A runs to the door (from the Central Station via Vesterport Station).
Disability-friendly access, also for wheelchair patients.